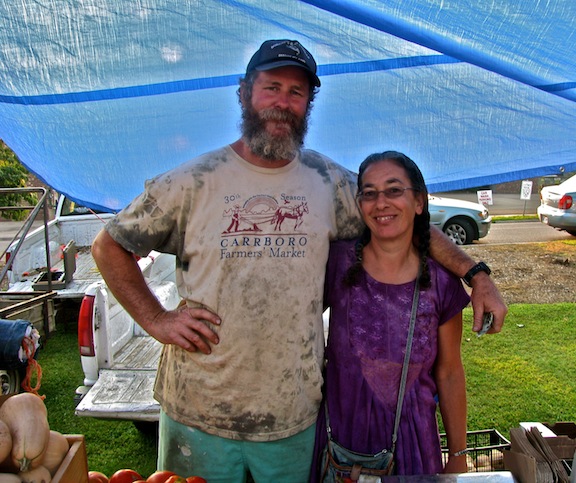 Eco Farm has been in production since 1995; we sell our goods to several local shops and restaurants, at the Carrboro Farmers' Market, and in our CSA. Over the years we've been producing over seventy different types of vegetables, fruits, herbs, and flowers*, and farm crafts, hand-knitted goods, firewood, and our family-created Greek vegetarian cookbook. We are all natural, pesticide-free, and "morganic" (a term coined to preclude paying the federal government the annual $900 fee charged to use the now copyrighted word "organic").


The name "Eco" symbolizes Cindy and John's affirmative beliefs in:
· "Ecology", or the positive relationship between people and our environment,
· "Economy", or the practical management of our resources,
· "Econopouly", the Ellis Island-shortened surname of Cindy's paternal grandfather, Yorgos Economopoulos, who left his farm in Zarafona, Greece in 1904 to open the Hicksville Sweet Shop on Long Island, New York.

---
*Ageratum, apples, arugula, all lettuce mix, bachelor buttons, broccoli, cabbage, Chinese cabbage, butternut squash, celosia, columbine, cucumbers, collards, basil, beets, broccoli raab, cauliflower, cilantro, dianthus, elephant garlic, eggplants, eucalyptus, fava beans, fingerling potatoes, firewood, figs, flowers, foxglove, garlic, garlic greens, globe amaranth, green tomatoes, irises, kale, larkspur, lettuces, love-in-a-mist, mizuna, mustard greens, okra, onions, oriental broccoli, pac choy, peppermint, potatoes, radishes, red Russian kale, shiitake mushrooms, strawberries, spearmint, spearmint lemonade, spicy mesclun, statice, sunflowers, sungold tomatoes, sweet peppers, sweet potatoes, Swiss chard, tatsoi, "Tea Time" bouquets, tomatoes, turnips, yarrow, dried wheat bunches, wreaths, zephyr squash, zinnias